Local Brews 2 You delivers local beer directly on Twin Cities beer enthusiasts' front steps. Each month supports the business of a local, craft brewery and gets beers into the hands of people who love to drink it. B-Corp certified, Local Brews 2 You sends a percentage of the monthly subscription fee to a community cause of the customer's choosing.
​​
The Local Brews 2 You logo is bold and to the point. This brand is about beer! Finding inspiration in the vessels that bring beer to us, I landed on the beer cap and growler. As the local brewery scene is exploding in the United States, I've been seeing a lot of logos that use wheat and hops in their imagery, but I wanted to emphasize that this company delivers the beer, it doesn't brew it.
On the right hand, I've included another version of the growler. It's the same shape and color as the logo but has the added detail of the word BEER. The icon can be used in places like Local Brews 2 You merchandise, social media avatars, and other places where some variety is called for. 
​​​​​
REPEAT PATTERN & BANDANNA
LOGO IN BRAND COMPLIANT ALTERNATE COLORS
This brand brief was created to guide the process of creating the Local Brews 2 You brand. It outlines the company and its customer, voice, value, culture and competition.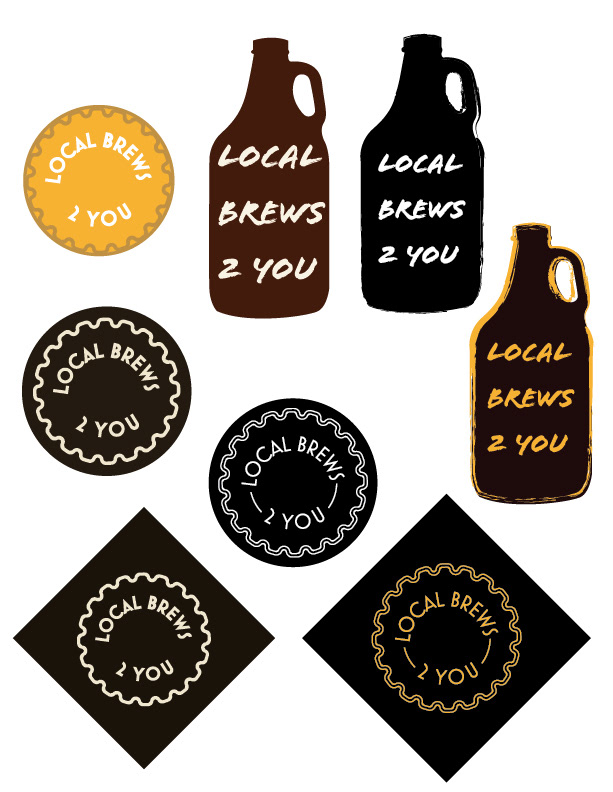 Here are early iterations of the Local Brews 2 You logo. The final logo ended up being a fusion: the round bottle cap shape with the beer growler nested within and different typography all together. At one point, I thought I was going to ditch the growler all together, but found the unique shape offered flexibility and interest when fleshing out the brand.
 The style scapes were presented to the client for potential directions to take the design. After discussing each option, they went with the final style scape, but 
minus the polka dots!